Event 1: Raffle
Edit


There is currently an event with these medals.
They are for a raffle to win in-real-life items.
Only Koreans may receive the items, so they are useless to foreigners. Just throw the medals away, or right-click them.


Patch: Official Agent Seha
Edit
Lee Seha Official Agent update
Edit
Official Agent upgrade requirements

lv41 above
6 upgrade quests from NPCs in G tower rooftop
upon upgrade, new skills will be unlocked. new skill cubes will also be sold (advanced, expert level). full agent staff costume will also be given (no expiry date/dissemble/trading/rewrapping/upgradeable). PvP can choose Seha Official Agent
Teamwork Buff added
Edit
Depending on level, buffs can apply for different closers
If character has same job, the max lvl buff applies to closers
After entering dungeon, you can determine if you wanna use buff
Seha (Phy dmg +20), Seulbi (Mag atk +20), Yuri (Atk spd +2%)
New players from yesterday receive 10k UM
Dmg reduced for 1 Yuri and 2 Seha skills
Seha becomes more possible to move after skill casting phase/cancel/normal attack
Some skill description changed
Guro Station repeat quest credit compensation increased
Dungeon event quests will be changed to be performed alone
To a certain degree (high of course), items acquired/produced/enhanced success will be announced in public
Certain item stats reduced
Some monsters modified
Some character in PvP modified
for full info, check the link: http://closers.nexon.com/news/notice/view.aspx?noticearticlesn=104919
Update Schedule
Edit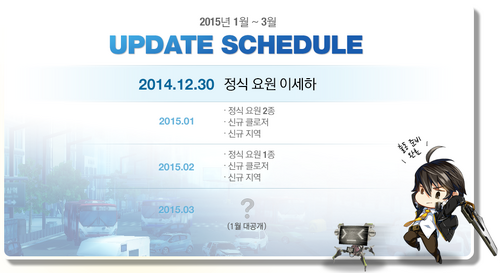 Closers Season 1 Grand Opening!

30/12/2014: Official Agent Lee Seha.
Jan 2015: 2 Official Agents, New Closers (character), New Area.
Feb 2015: 1 Official Agent, New Closers (character), New Area.
Mar 2015: ?

(Uses USA date format, flip around the first and second numbers for international format.)